21 DAY POSITIVE MEGA SPRINT
Today is another positive day as I have got a new book to try and reignite my love of reading and also it's the subject of a book group at the Oxfam Shop which I may try and join. I don't know how I feel about discussing it with people much more clever than me but we shall see how I feel after I've finished it. Going to try and get it read by the end of the weekend ( it's a pretty thin book!).
Today was a positive day because for the first time in years I went out to the pub in Scotland to watch an England game and I didn't get into trouble! Yahoo! It's taken me years to get used to the fact that in Scotland you are universally hated if you are English and I just let the jibes wash over me now. I'm proud of where I'm from and my families history just as most other people are! Sorry Scotland but my Southern accent is going no where and neither am I.
Theatre
Theatre
Friday
Today was the kid that I mentor's dance show over in Shettleston. He has been working so hard and every week he's just been getting better and better so I was so proud to finally see the fruits of his labour. It was a brilliant show and the first one set up by the children. I had to get the bus over to Shettleston as the trains are all cancelled but I was detemined not to miss it and although it was a bit if a slog on the overcrowded bus it was worth it. Also the World Cup started today which is very exciting!!!
Day 13 and it's Wednesday.
It's Sport's Day today and I have the morning off work to see it. I've managed to fit in about 50 jobs before going to school and will have a couple of free hours after to get stuff done. It's so nice to have a morning off to get everything sorted rather than trying to fit it into your working day. I feel like I've really set myself up for next week by getting a lot of itty bitty tasks out the way and still going into work in the afternoon and getting some stuff done there.
Day 11 is Monday and not much exciting is happening. It's time to get orders after work and get them off. I've had a massive order over the weekend of 10 items so I need to get them packed safely and off. The good news is that I need a new washing machine for my old flat that I rent out and yahoo, this order has paid for it, so no need to worry about the finances..Washing machine will go in this evening and part of my plan is to get some stuff sorted at the flat during the challenge. The garden needs major work and there is plastering to get done. having my old flat to maintain only adds to the endless list of jobs to be done but I love it and hope one day I may be able to use it as a studio. I've also dyed my hair nice and dark to try and make myself look like less of a mess at the end of this. We'll see how that goes, I always look like I've been dragged through a hedge backwards these days!
Today was our monthly barbeque and meet up at the allotment. It's such a beautiful space to hang out and so nice when it's sunny. We had great burgers, sorted some stuff out and then I went on to the pub with Marnie to meet my friend Jenny where we taught Marnie to knit. She seems to have finally got it after months of me trying and best thing is actually enjoying it. She's made a scarf in pink wool and has moved swiftly onto her second project. 
Today I got up early again and started getting stuff ready for listing in my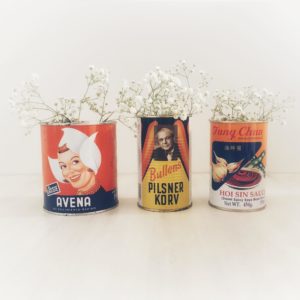 Etsy shop. The spare room is a bit overwelmed with stuff at the mo and it all needs to get listed and sold. I also finally emptied some tins that have been sitting in the kitchen having been bought for their cool graphics. These are now ace vases for the kitchen. Then Marn and I went into town quickly and picked up a few things, we are so lucky to live next door to the tube station and can be in the city centre in 10 mins. We then came home, had a quick burger and beer at our local pub, always aware that the rain was predicted soon, quick dash home to get the washing in and trim the fresh herbs I'm growing before the heavens opened.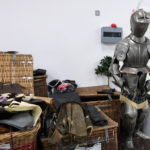 Today it's Friday, yahoo! I've got quite a lot of work to finish for the weekend and a trip to Dumbarton Studios again. This time however I get to look around the River City set and take millions of pictures. It's absolutely amazing and my positive for today is remembering how cool my job is and how lucky I am. It just took a trip out the office and to step away from the computer that I'm permanently sit in front of to realise that. We also went to the BBC prop store, where I could spend hours and days looking around if someone would let me, it's a warehouse packed to the rafters with crazy and vintage collectibles, some famous, some so weird, it's my idea of heaven. This evening was a pizza party with Marn and watching Cloudy with a Chance of Meatballs 2, not really my kind of film but it's good to chill out for once with my little lady!
Thursday is here and it's time to visit my wee kid in Shettleston. He's got a dance show in a week which I am looking forward to attending and during our session he shows me some of his routines. The amount they have come on in the past week makes me so proud, I can tell he's been practising hard and he's almost there which is great. I really enjoy our time together and he's a real learning curve for me, seeing him happy, healthy and becoming more positive each week is my positive too for today. Mentoring is incredibly difficult but also so rewarding, I would recommend it to everyone and I can assure you there are hundreds of kids who could benefit from your companionship and guidance.

Day 6 and I'm pretty hungover and tired from my mega hot beer garden day-drinking but I have to go to Dumbarton to set up our new BBC Scotland River City Shop. I've designed loads of merchandise and have to set up a display cabinet. I get back just in time to head into town for our June Glasgow Etsy meeting and a record amount of people turn up, so many that the pub ran out of chairs. It's good to catch up with my buddies, Glasgow Etsy has introduced me to so many brilliant friends, I'm so lucky. Positive for today is that we've started to share out the workload with team members who are so kind to volunteer some time to help us move the team onwards and upwards. This week I've been sorting the blog team and approximately 13 amazing volunteers come forward. It would be great to keep the blog updated more often and with their help we can.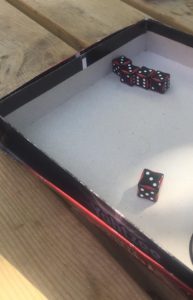 Today yahoo I have a day off work! I drop off Marn at school and then go to meet my best friend to go to city chambers in the city centre as today she's getting her British Citizenship. I'm not going to go into it too much because it's a blog post in it's own right waiting to be written but it was very humbling and really got me thinking about my nationality and how I feel about it. After that it was a fancy cocktail in Rogano (the most special place in the world) whilst listening to old Hollywood music-my favourite, some pad thai for lunch and then a lazy afternoon spending rare quiet time together in Cottiers beer garden playing Yatzi which scarily we kept throwing amazing scores at and freaking each other out. The positive lesson today is about making time to spend chilling with friends, especially your best one!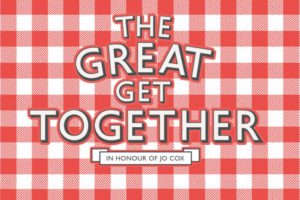 Monday back to work and it's pretty busy. I manage to make a smoothie before I go, which when I remember to do so I can totally feel the difference in my energy levels. Afterwards it's studio day to get my orders and a quick pint on the way home with my studio mate Lynne to discuss some plans we have for the Great Get Together at the Hidden Lane in a few weeks. Neil is going to do a limited run of the Jo Cox illustration he did after her murder and we will have tea and cake to raise money for the foundation set up in her name. I'm desperately thinking of ways to bring together different communities which is the main point of the day, but that isn't always easy in the Partick. Last year I attempted to bake cookies for my neighbours but as the oven is so shit they didn't cook properly although the raw mix was immense so I ate it, sorry neighbours I tried. Unfortunately one of my neighbours has proved himself since then to be more of a arse than an arse so I will scrap that plan for this year and try once again to do something positive that hopefully will be appreciated on the 24th June by someone. I'll keep on racking my brains!
It's Sunday and I got up early and cracked on with some chores. Getting long overdue jobs that have been bugging you out the way is good, a tenement is a nightmare to keep clean so I guess I have to bite the bullet and accept it will NEVER be sparkling but that's more jobs ticked off the mega list. We then went swimming which I always for some reason dread and try and talk Marn out of but it felt good to get some exercise and the feeling of mainly less aches and pains afterwards is amazing.Then home for dinner and Britain's Got Talent Final which has made me question what talent Britain has, although the winner was totally deserved and reminded me how much I love comedy and how there are too many opera singers on BGT. Anyway positive for today is exercise and finding something that is manageable and actually I can feel the benefit from.
Today I got up an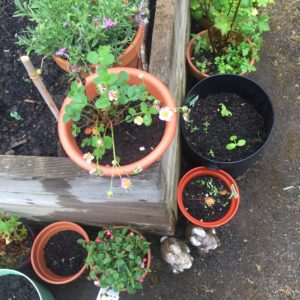 d it was impossibly hot in Glasgow again with a promise of a thunder storm to clear the air ( please come, it's soooooo hot!) . I went to my allotment and cleared all the weeds around the bed which was such hard work in the heat. I'm growing peas and beans, potatos, we have tomatoes in the greenhouse and I planted some fruit bushes this week which will take years to actually work (if ever as I got them in Poundland!) I have loads of flowers and I'm hoping to have some crops to show by the end of the challenge. After that it really was home, shower and hope for the rain to come to clear the air. There was nothing for it but a beer and grabbing some lunch for Marn and although this doesn't seem like a very positive thing it really was. I live in a top floor tenement flat that looks down into a overly noisy beer garden. The shouting keeps Marn awake until they all trapse inside at 10 and the bars rubbish is always strewn across our street, the fact that the patrons can't be bothered to go into the premises to wee, they just do it all over our road always winds me up so much. I get so angry about this beer garden because basically for most of the time it seems to be full of knobs. I have never been to said establishment despite it being next to my house because I treat it as an enemy. Yesterday we went for the first time, Marn got an amazing burger for £5 the menu is great value, the beer garden was lovely and felt really relaxing on the other side and inside they had a big band playing and it was full of loads of people of an elder age enjoying the music on a Saturday afternoon. So there's my positives for the day – tidy allotment and making peace with my enemy – the beer garden. 
It's my first day of my sprint today and it's impossibly hot in Glasgow – "Kent hot" I would say. I've been to see my kid mentee in Shettleston and it started to thunder but the air has still not cleared. Unfortunately today we got some bad news, which will pretty much dictate the rest of the year as we deal with it but remaining upbeat it could always be worse and this could have been worse, that's me honestly trying to remain positive on the first day of the challenge, help! We had a school ceilidh to go to and took some of Marn's friends with us who were joining us for a sleepover that night. All was good, I had a bit of a wobble about the news and had to go and have an Emma Thompson Love Actually moment in the toilets but positivity is definitely the key for getting through what is to come in the next few months. I've started slowly just doing some of the small things that bother me to get rid of them, scrubbing the sofa stainfree and similar. Building up slowly because to be honest this heat is crippling and is making me so sluggish!